Protection is key - IXS Trigger AM - Review
Scroll Down
Our noggins don't seem so important, until we tend to hurt them and end up in a crumpled mess trail side. Ironically, they put us there. 90% of the time, we get up, we dust the arms and legs off, have a quick look of the skid lid and carry on under some heavy breathing.
The other 10%, well, thats when we rely on something of decent quality more so than ever. When it comes to knocking ya head, there is never any substitute for quality. I know of a few people with some seriously horrific accidents that will vouch for this, even if their outcome was still life changing.
Enter the latest trail offering and line of helmets from iXS, a well reputed and growing brand out of Europe. iXs is and has been producing some serious contenders in the world of safety in both pedal and motor assisted bike categories.  
Distributed by Marleen's in New Zealand, the brand is rapidly becoming one of the more major contenders against the regularly found, Giro, Lazer and Bell. The trigger is from a family of lightweight helmets that come in a half shell AM and full face DH. They come in a selection of subtle yet bold colourways and offer a few snazzy little features.
Starting with the weight, the trigger AM in a large variant comes in at 415 grams (which is around 50 grams lighter than my giro chronicle) but is a lot more compact than most other helmets in the same category.
The ventilation of this helmet is probably its most notable feature. Named the Vortex TM , the large vents in the upper forehead section and coupled with major vents out back, allow the inwards air to escape. This helmet has the airflow of an XC helmet in the package of an AM.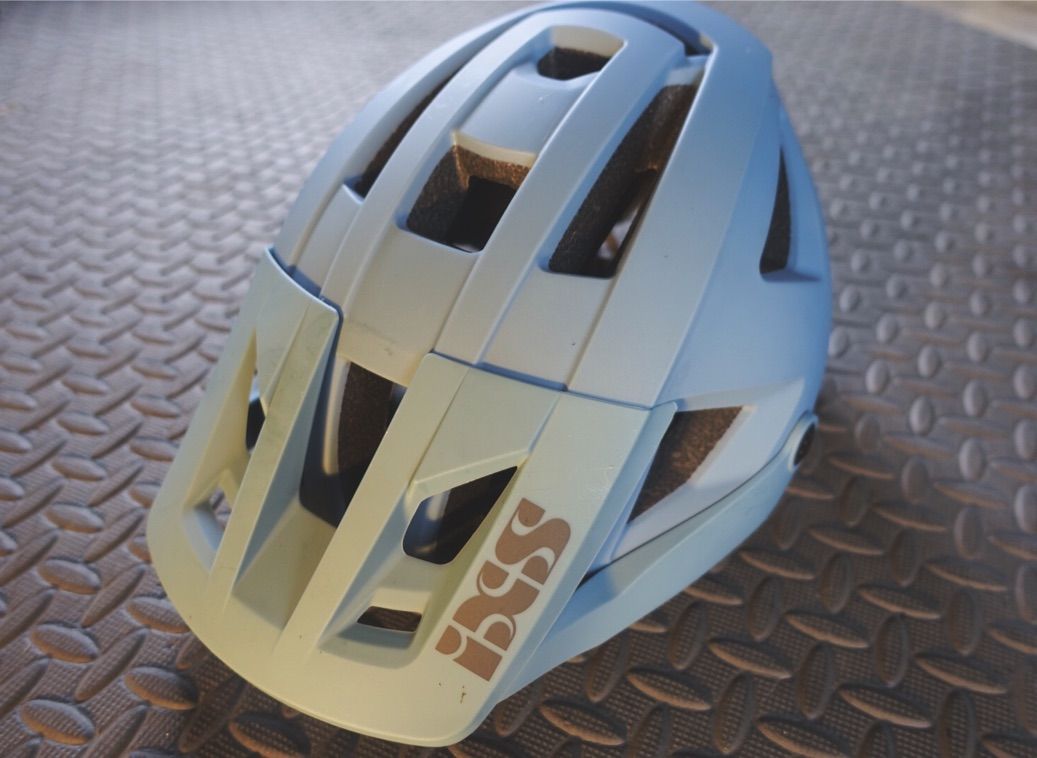 With a few fancy little additions like iXS's own integrated Fidlock TM  magnetic locking chin strap. It creates easy handling and the necessary security you require from a helmet that can be fitted with even the fattest of gloved sausage fingers.  The well thought out padding offers great comfort without interrupting the ventilation and seems to wick the sweat away from your brow. For good adaptability, the ErgoFit Ultra TM  - horizontal and vertical adjustment system will keep it placed exactly where it's comfy.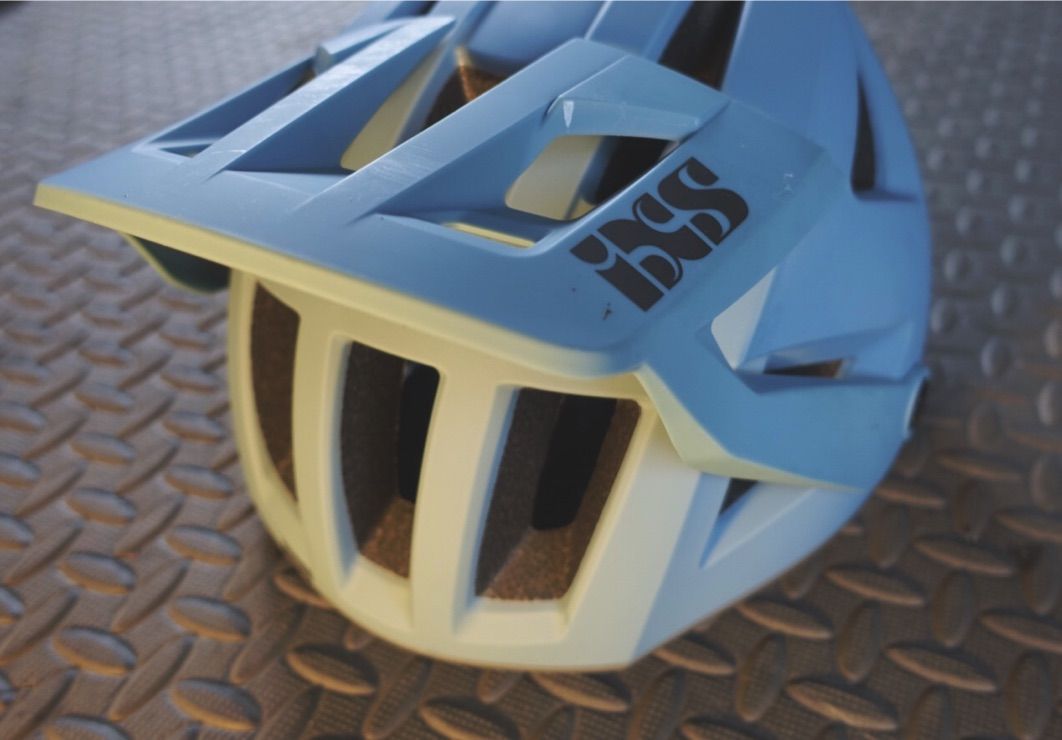 iXS have also made an easy accommodation for goggles with a 3 stepped visor that can house the goggles forward facing and underneath it in a surprisingly perfect spot.. This is a good stash point as what happens when we normally mount our goggles on the back of our helmets? They fog up!
iXS-TRIGGER-AM-official-feature-video from iXS Sports Division on Vimeo.
So how does the helmet stack up out on the trail?
Besides the snazzy looks from the dual in-mould covering, the first most noticeable traits are the breathability on an enduro and trail oriented helmet. Again, normally this is something we associate with that of an XC style helmet with no visor. The breeze that flows through the visor and through over the head is perfect. Not too much, not too little. Anyone who has owned a giro chronicle will know they don't do ventilation.......
Surprisingly, you would think when goggles are stashed in-front, it would slow this airflow down? It actually still works fairly well as the visor seems to grab that air flow and direct it downwards. (see photo below)
The ErgoFit UltraTM system feels good for a non rotational impact system. For the past few seasons I have been riding Giro Chronicles with the Mips system. This system is a floating shell within a shell if you may.  The ErgoFit feels very similar but almost feels a little more sturdy than that of the former as with mips, you do get used to the feeling of the helmet floating around a little more. This system holds firm.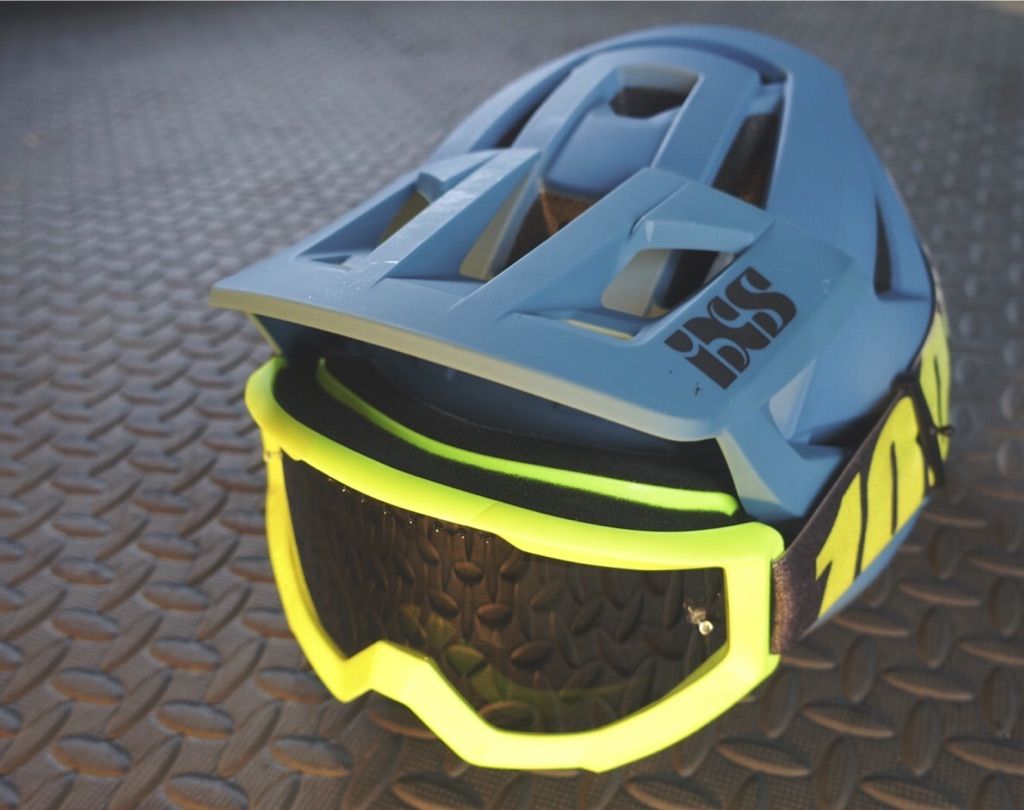 With an easily adjustable knob in the back, I found the ErgoFit system to work in minor adjustments just as well if not better than the Mips and can definitely see the construction of the mechanism is a fair bit sturdier. The adjustability both horizontally and vertically means there will be very few heads that wont fit this helmet.
And that magnetic Fidlock clip? *Insert love heart emoji here*. How good!? At first you think, "oh yeah, little point of difference there" but honestly, this is by far one of the handiest little ideas I've seen with a chinstrap. No fumbling, no third chin pinching, just a simple catch and release style that holds tight no matter how much wriggling and shaking you give it. The twist to release is as easy as putting it on.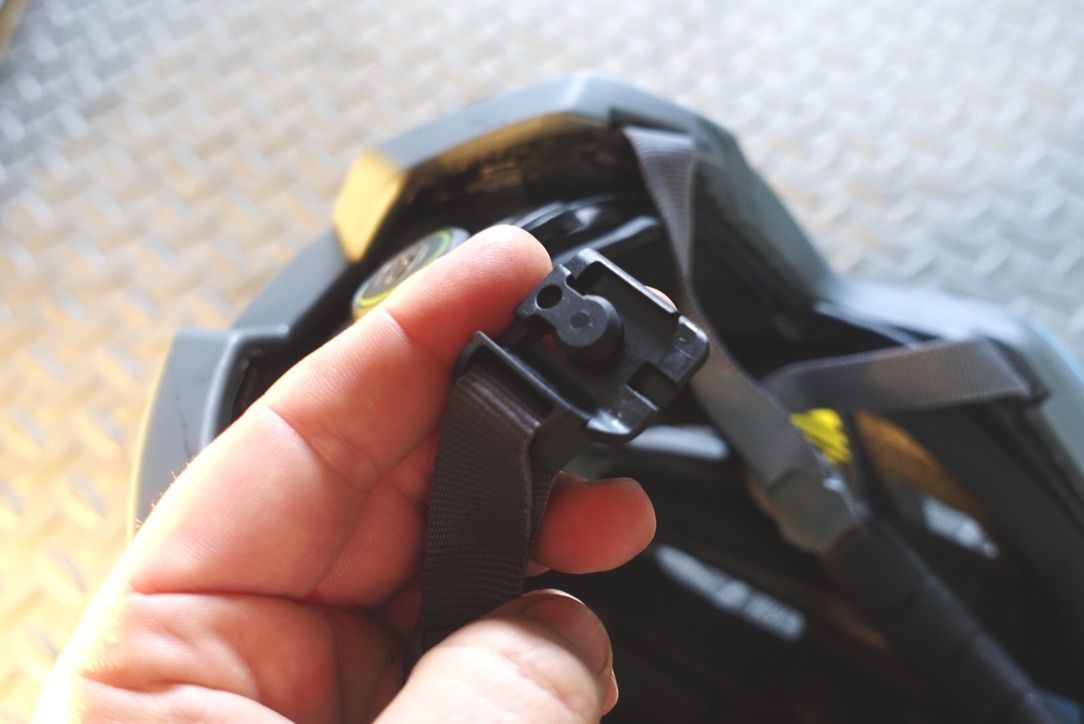 When riding with goggles I did love the fact to transition from wearing to stashing, it's a simple drop down or lift up. The strap stays put in the helmets moulded channel on the back and any major brand goggle will work.
Our only real gripes with the trigger are we'd like to see iXS adopt a non rotational impact system as they are proven to offer a little extra support in heavy hits from side on. Given the standards this helmet is certified under and iXS's protection reputation, you're still in good hands and safety is still just as high as any other comparable manufacturer.
Bottom line is, this helmet is comfy, barely noticeable, affordable ($160 NZD RRP) and looks great. A lot of people don't realise just how much a comfy helmet does for their riding. Less weight, cool head and snazzy looks is a recipe to go fast and not be inadvertently distracted. We firmly vote yes for this helmet.
For details on where to buy this helmet in NZ, head to Marleen here and find a dealer close to you. Massive thanks to Nic and Wez at Marleen for demonstrating this helmet at Crankworx Rotorua last month along with heaps of other cool iXS things. Next item may have to be the Full face version so some arm twisting may be in order.......