Timber Trail Lodge - Luxury In The Middle Of Nowhere
Scroll Down
Generally, when you place the words, Boys Trip and Mountain Biking Weekend together and throw in the country's worst snow event in years, you don't usually come out with an equation anywhere near luxurious or well organised. More often then not it's a shambles, involves tonnes of takeaways, a smelly pile of washing and some broken bike parts. One thing is for sure, this weekend certainly took the boys trip to a new standard.
Enter the Timber Trail Lodge, situated deep in the heart of what feels to be literally nowhere (in a good way). Pureora State forest in the King Country of New Zealand to be exact and is perched perfectly, keeping a watchful eye on the adventure pocket of Piropiro and the mid-way point of the now, well renowned, 85 KmTimber Trail.
Having recently opened the first stage early in 2017, the lodge is a collaborative approach from a bunch of very devoted individuals and community groups who saw a niche in offering a culturally rich, down to earth and informal luxury location which is literally smack-bang in the middle of the trail.
With room for 50 guests in a mixture of dorm-style rooms, single rooms and soon to have ensuite packages, the lodge leaves a smaller footprint on it's location then one would think. The entire facility has been designed with minimal impact on it's surroundings on many different levels right down to the smallest of details. Even with a distinct lack of growth from the freshly planted natives and landscaping, there is something strangely satisfying about the Lodges current barrenness.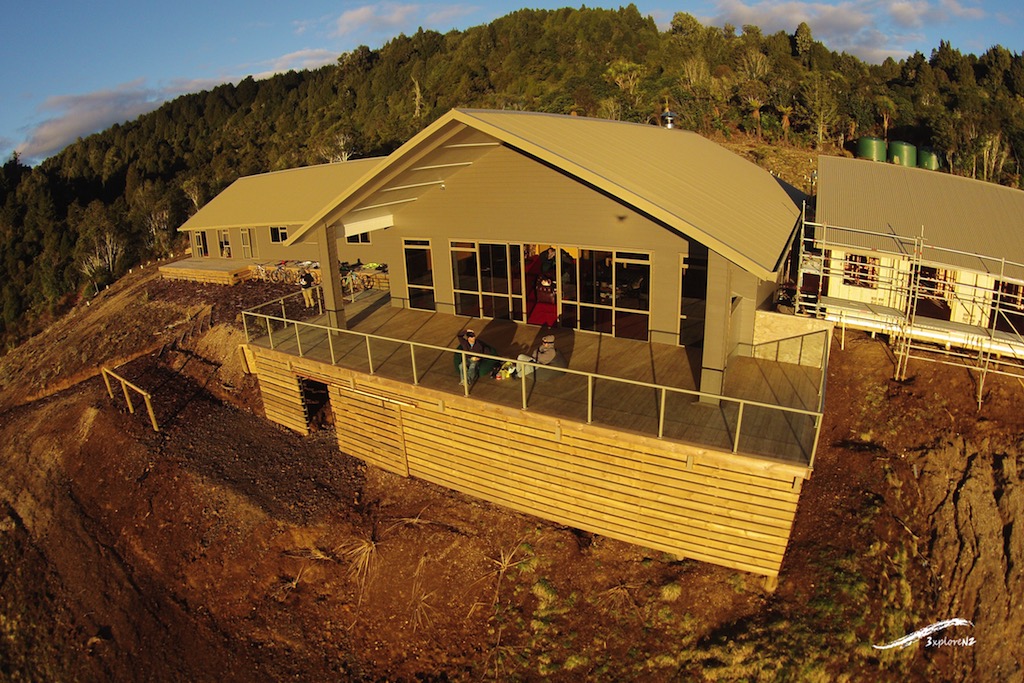 The lodge's neutral tones from afar blend in, in a way that make it non obtrusive to its native forest surroundings while still holding a modern, subtle prowess. On a more metaphoric sense the lodge has encompassed a clean-green approach with areas of sustainability with composting waste, vege gardens under construction, recycled timbers in areas and an evolving, smart electrical system pertaining to it's remoteness.
Arriving to the lodge is made easy even after a long gravel-road drive with serious doubt that you're actually going the right way, with a relaxed greeting by Lodge managers Piia and Corey. Quickly you feel right at home with a quick tour, the all important beer or warm drink offering (yeap, they carry good craft beer too) and a quick confirmation of your weekends itinerary with the shuttle pickup times, dinners and comings and goings before settling in beside the fire with a distinct lack of personal electronics.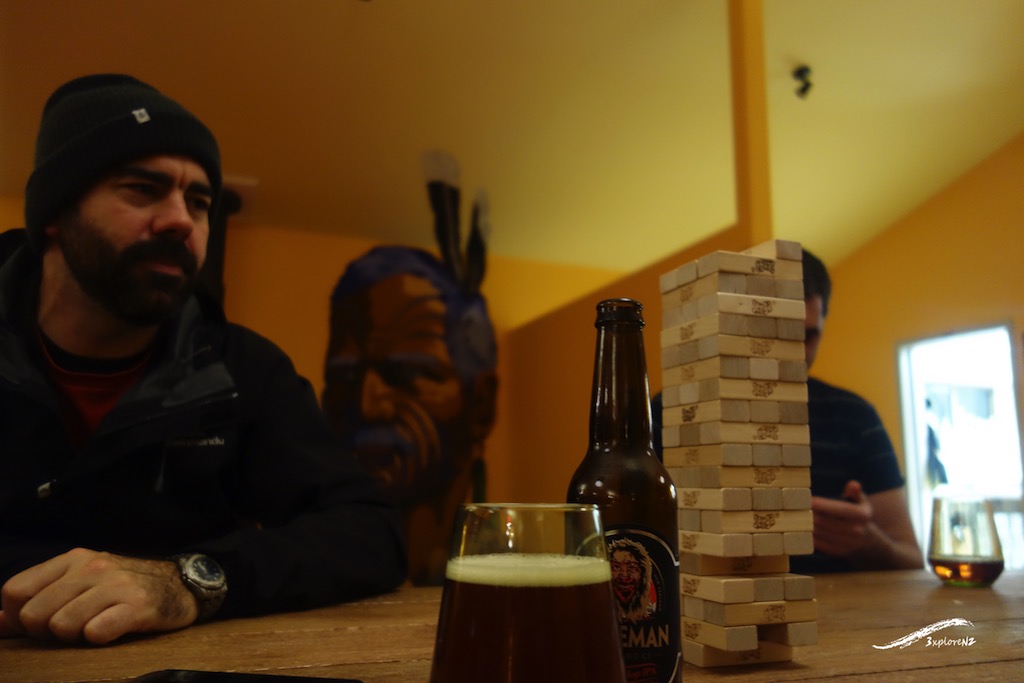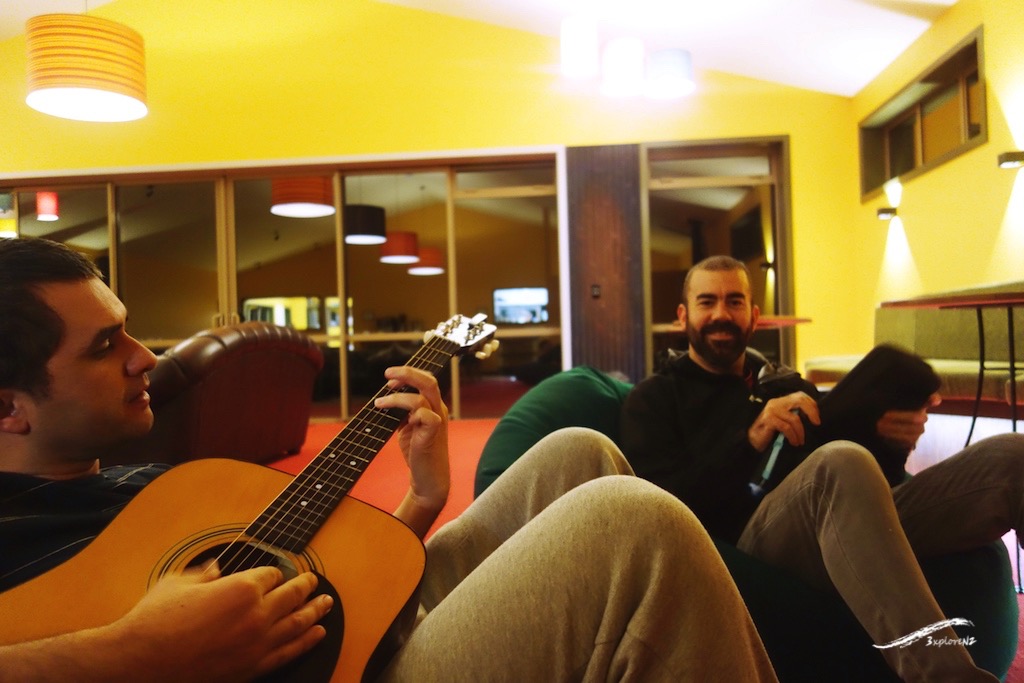 Lodge Managers Piia and Corey bring a world-wide solution to a very kiwi location. They both have extensive history with many high-end hospitality locations around the globe yet both are very much in touch with real-life which is all important at a mountain bikers retreat. When chatting with them both, it's clear to see that they have embraced this full-time divorced part of paradise from mainstream life and bring a real passion to their new home.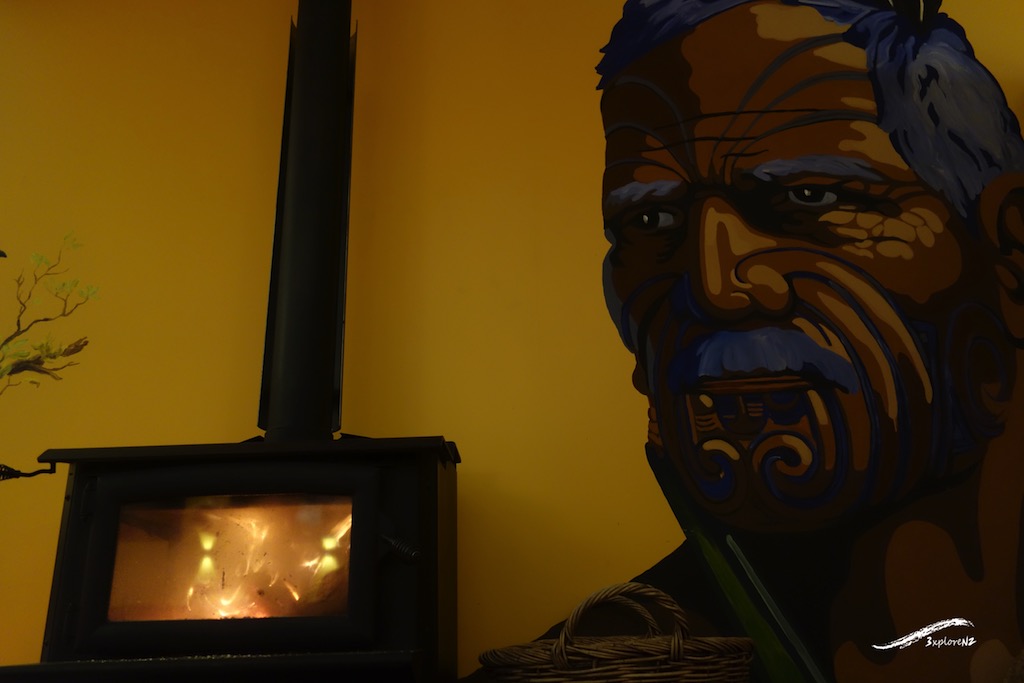 Corey's culinary skills from his many roles as chef in some swanky restaurants certainly didn't go a miss and aided to the level of luxury one would not associate with being so isolated at an extremely low cost. The fact that they sit down to eat with you chatting and joking made the experience all the more real.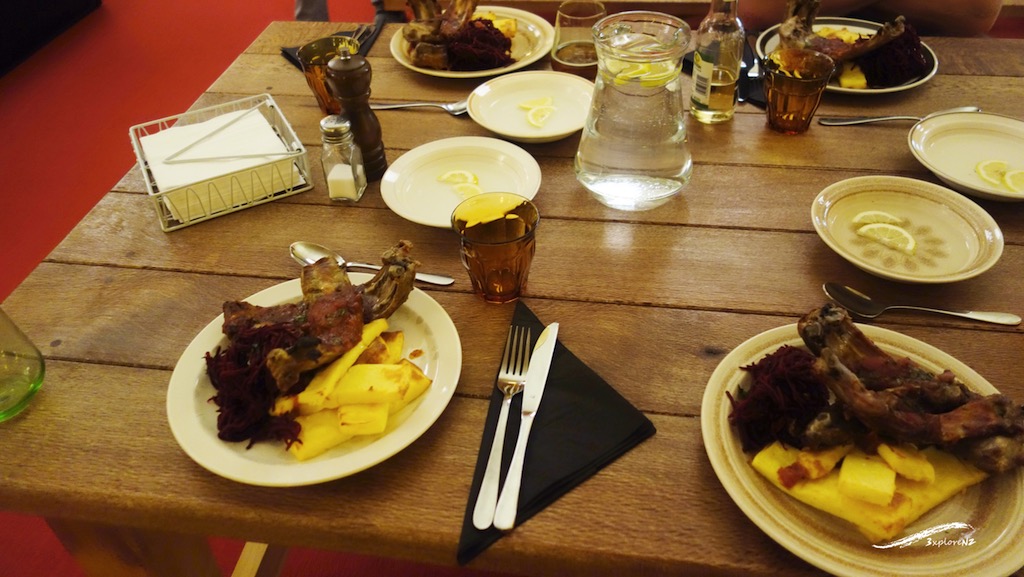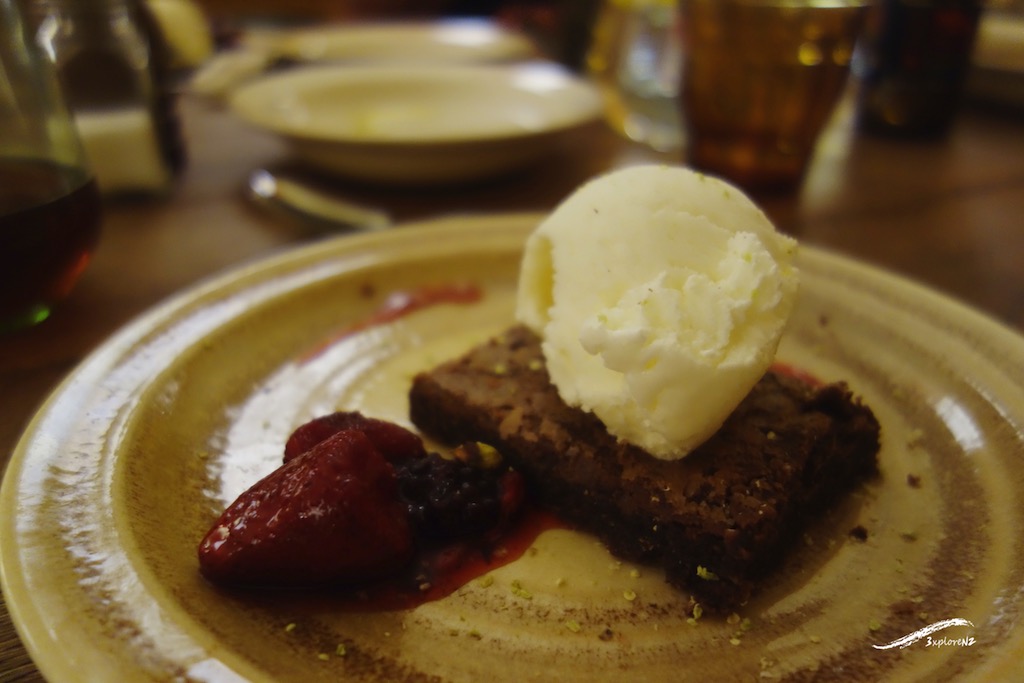 For our stay, we were fortunate enough to have the rotational managers join us too. Millie and George from Turangi stand in to help when Piia and Corey have time away from the lodge and offer an equally diverse solution. Their real jobs with DOC (envious to most outdoor enthusiasts in NZ) give the impression to me that they are merely a space filler for instances like these with a true passion for the outdoors and surrounding areas.
Both Millie and George have been involved with notable DOC projects around the central plateau, Taupo and King Country areas and even aspects of the Timber Trail itself so their knowledge was well felt.
As mentioned above, the week preceding our stay was that of a major snow event with sub zero temperatures in areas not always privy to such. By a stroke of shear luck we managed to have 3 days of stunningly cold, clear breathless days with conditions us Northlanders are definitely not conditioned for. The heavy frosts both nights were no match for the Lodges large fire place and central heating system in each room making the layers less and the comfort more.
To return to this after a days heavy slog in snow and permanent frost made the days efforts well worth it with powerful showers, comfortable beds and delicious food.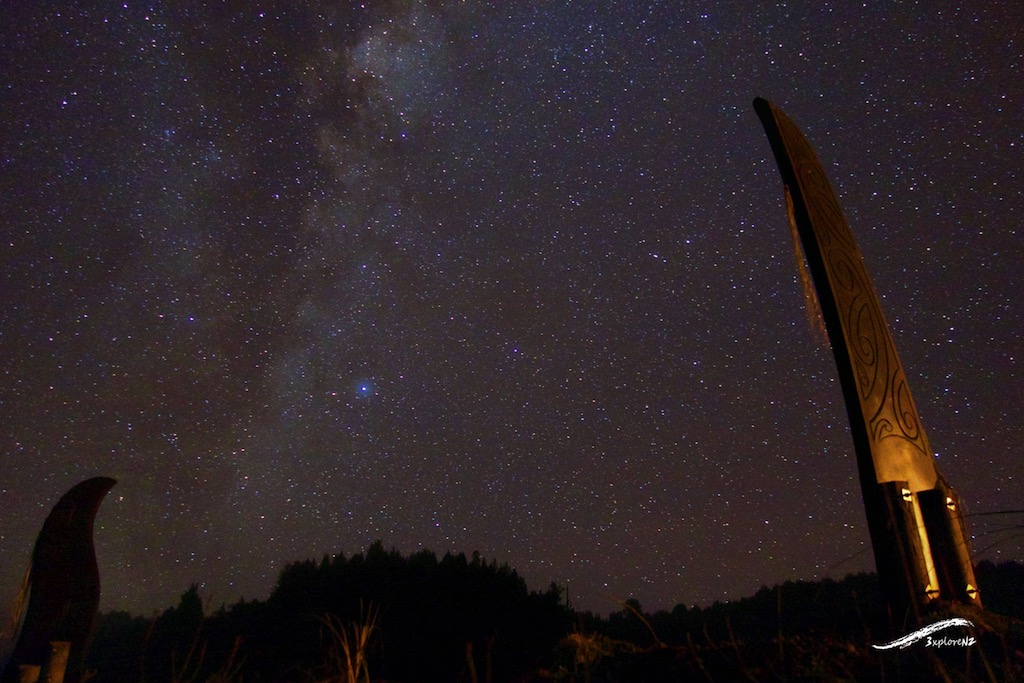 For a facility that is currently only at 50% capacity guest-wise, it's already 100% functional with their systems and processes already running at full speed. It's sobering to see an attraction such as this focus on making sure they do it right before even opening their first phase so hats off to the Team here.
For our entire weekend we can only really describe the lodge and its operations as seamless, massively enjoyable and class beating. From booking to arriving, getting on and off the shuttles and enjoying ourselves, the whole process is made easy and intuitively with the only real brain power requiring you to pedal. Price point is surprisingly reasonable and certainly wont break the bank when considering weekends away within a normal city's bounds.
To Bruce and the Team behind the lodge, Corey, Piia, Millie and George. Thank you all for your hospitality, deep knowledge of an area envious to the wider community and welcoming attitudes. I can see the Lodge will evolve even further to being the stand-out place to go for thousands upon thousands of fellow hairy legged mountain bikers and adventure seekers for years to come. You've all proved that you know exactly how to provide an experience that builds memories and leaves any guest without any doubt of why they made the journey.
For more information and to book your stay, head to the Lodge's website and plan your trip soon. Janine will ensure that all of the nitty gritty parts are made and planned easily and quickly without hassle.
We guarantee you wont be disappointed and you'll more then likely be planning the next trip like we are right now....