It's not often you find a red headed, French, Plus sized model gracing the cover of Vogue Paris magazine as the two aren't always the best fit for such a magazine.
This however, may be the straw that breaks the camels back with slender low lines, curves in places that suit and a footprint to leave you wondering just how well it rides.....
Now any innuendo aside, we are genuinely talking about a bike here and the current market trend and (my most hated term) Industry standard that is sweeping the mountain biking world by storm. Like our review last year of the Marin Pine Mountain, this plus bike thing is still something relatively new to us in the biking market so, we made sure we really put the bike through its paces before critically passing our judgement like the under informed bro-fessionals we are.
Arriving freshly onto the Mybike Whangarei shop floor, we were quickly taken by the bikes lines, shape and spec's plus it loudly yelled RIDE ME with it's dayglo complexion. After a couple of quick laps around the shop, out over a few discarded pallets and some wheelies thrown in for good measure, we managed to convince the lads to give it to us for a few months on appro to give it a thorough flogging.
First impressions on the bike from afar? Relatively well spec'd for the price, offers the prospective buyer modern geometries and it certainly won't break the bank especially when compared against other brands playing in the same space at an affordable $1,999.99 RRP.
Carrying out the ground work is a set of tubeless ready, Maxxis 2.8" tyres. Consisting of an Ikon rear and a rekon front mated to a set of low profile Alex MD40 Rims and boost hubs. Keeping this rig well grounded should be a simple task with this combination as this level of tyre is not often found on a mid spec'd bike. To say we were surprised was an understatement when considering the cost to replace a set of plus sized tyres...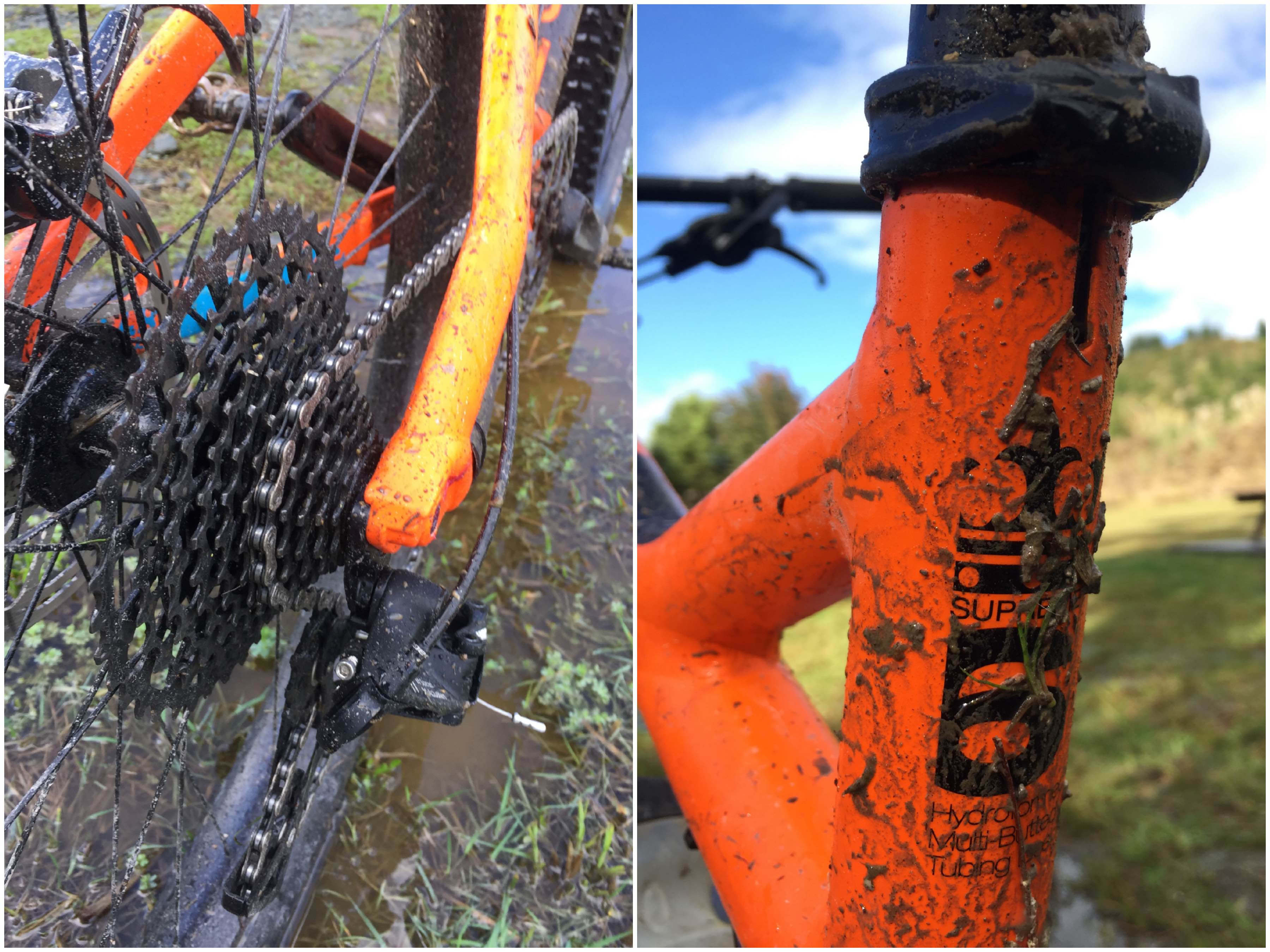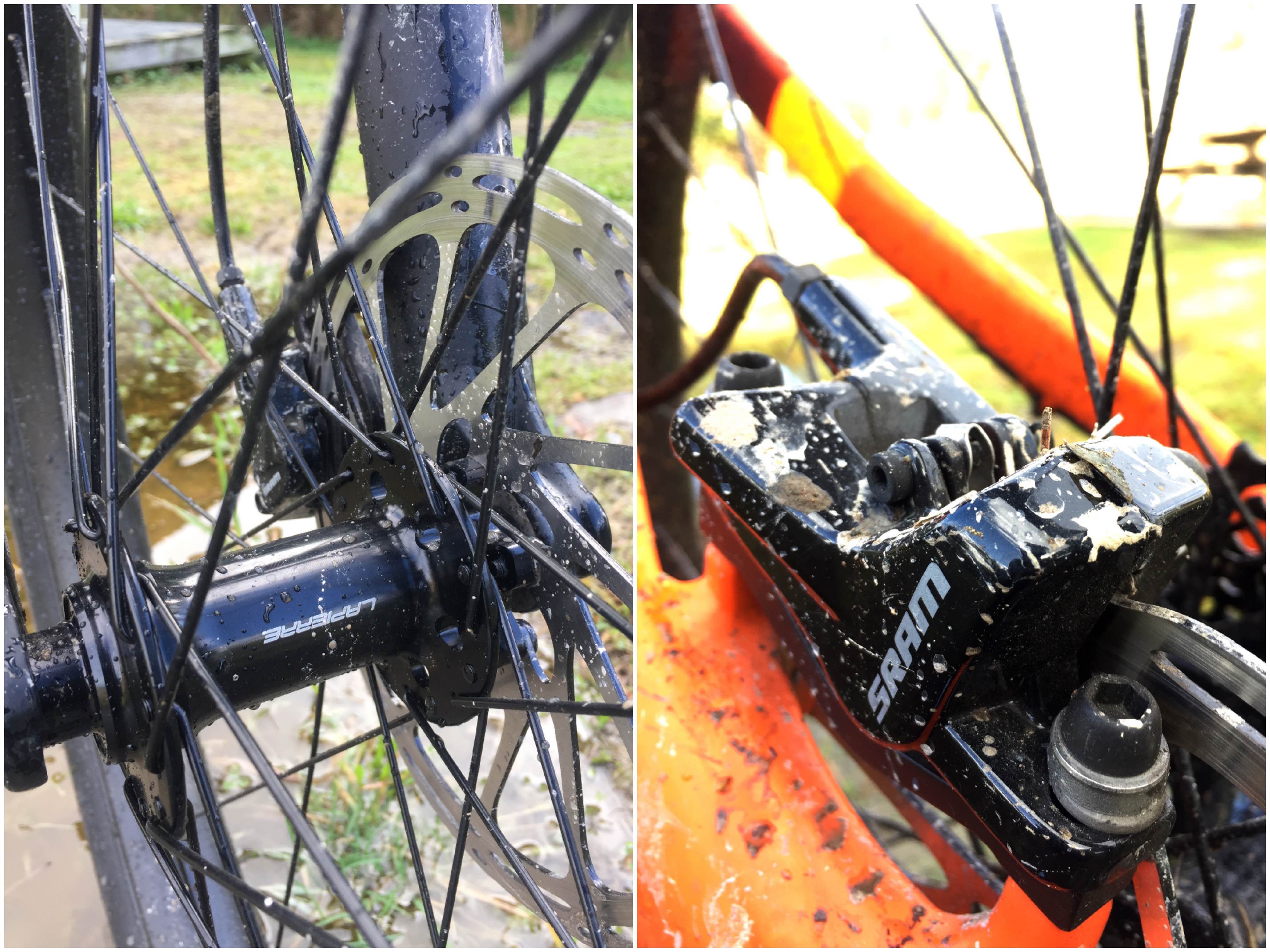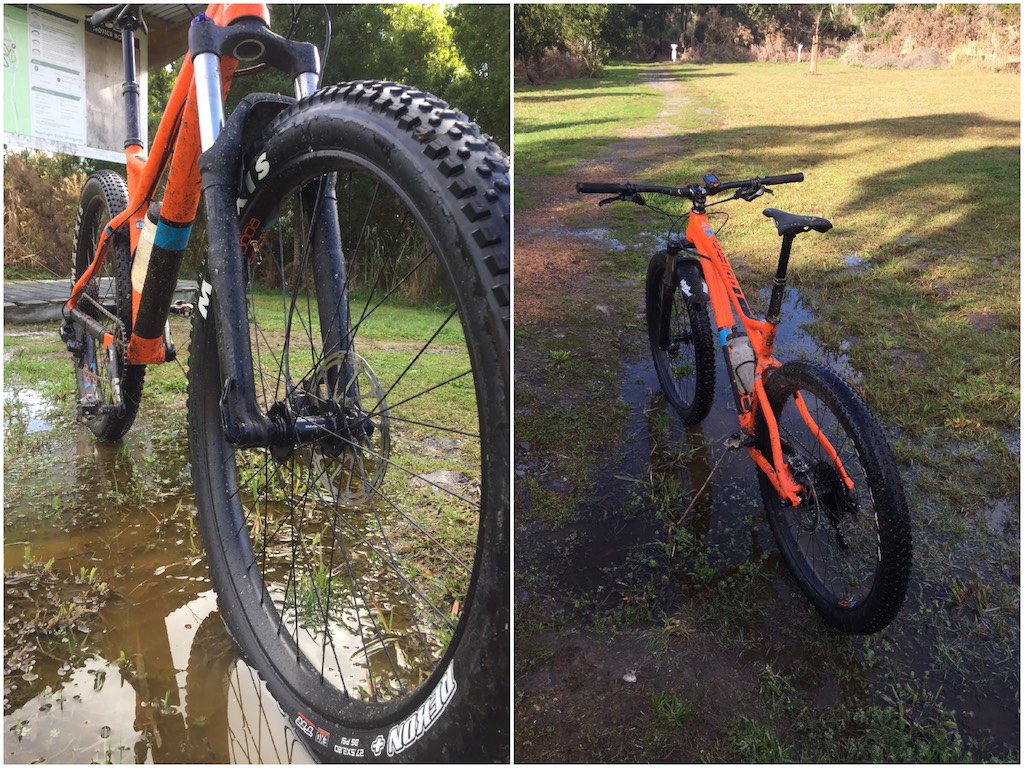 In the cockpit, Lapierre have equipped their plus sized steed with a 1 by Sram NX groupset offering a good base level of 11 speed shifting. In the all important stopping department, a set of Sram level T brakes and matching centreline rotors were the pick and is pleasing to see they fitted the front hoop with a 180mm rotor to reign in the chubiness (the rider in this case).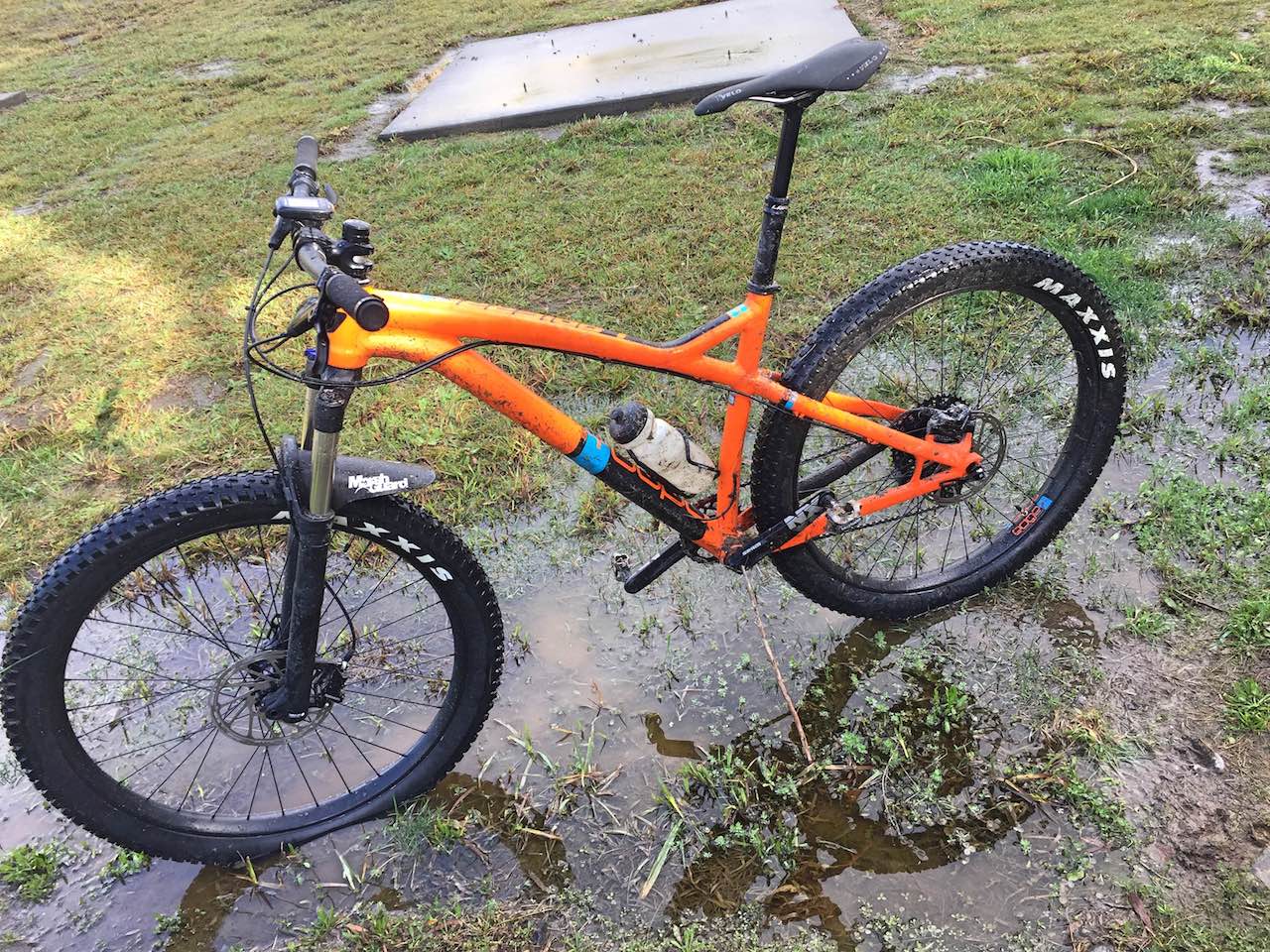 In the comfort department, Lapierre have added a factory branded dropper to the edge's derrière with their most commonly found saddle which does the trick for a short stint. As you can see by the photo's that got the axe fairly quickly and was replaced with my trusted and well used Velo. In the front end, a Boost compatible, Rockshox Recon fork is thrown in, in an attempt to tame the high traction levels when descending.
Actions speak louder then words
Since grabbing (part stealing) the bike in March, we have managed to give the bike a thorough extended test across a wide range of surfaces, locations and conditions that have tested even our own riding abilities in places.
After a heap of googling, a steep learning curve of tyre pressures allowed us to ride the bike and not feel like a kid on a pogo stick attempting a half marathon.
With pressures dialed and the k's increasing, the bike felt less and less foreign to the norm you're conditioned to and more like a new way of life with insane levels of traction! These bikes really do have something else that most other tyre and wheel size combinations don't albeit with a crap load more gasping on the climbs from the added rolling resistance.
In dry, high speed conditions, the bike felt well balanced, lively and exciting but when pitched into a sharp corner, the forks felt like the bikes achilles heal. Under certain downhill, very fast, tightening corners, the forks had levels of twist associated with a type of dance in a slightly unnerving way. Now when I say fast here, I mean really pushing the bike probably past what it was really intended for at that specification. So to quip about the fork quality, I aren't really comparing apples with apples.
Stopping power aboard the Edge was more then adequate through the level T's and not once did I feel the bike lacked anything in this department. For a Brake line thats modeled as their lower spec brake from the guide family, these brakes had a good feel with minimal clenching and whimpering panic involved.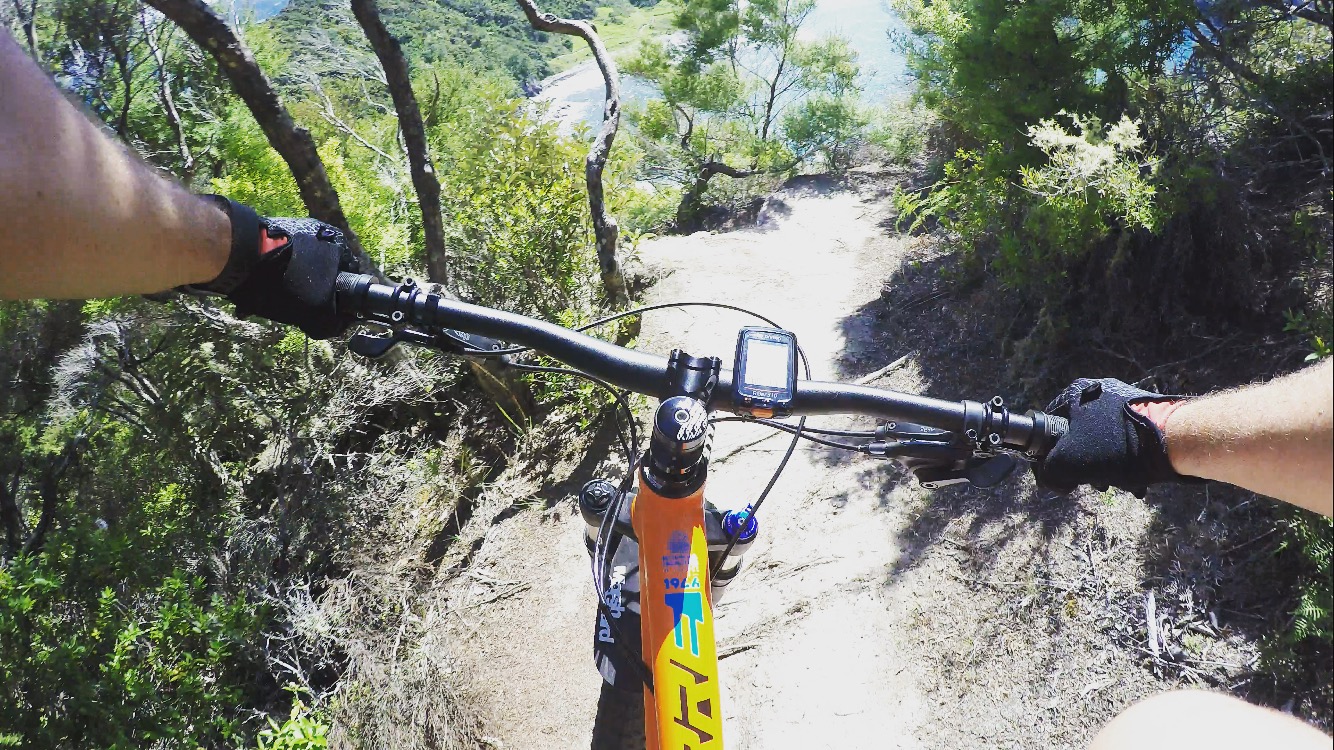 When the trail got super rowdy, the edge began to lose some of its composure and got knocked around by the bigger hits, this is completely understandable and handling in those type of situations was right on par with most of the other plus, hard tails we've ridden (Pine mountain 1 and 2, kona Big Honzo AL Etc.). All of those bikes have their limits, but they perform at a higher level than what you'd expect from a bike with 120ish millimeters of travel, spongy tyres and a rigid back end. you firmly just have to grin and bear it and embrace the old ways of having no rear suspension.
Winter wonderland
With the above in mind, and the fact we've had the bike in the stable for a few months over a predominantly dry period, we have finally had winter deliver us some crappy, sloppy wet weather to give this bike a decent push in some horrendous conditions. Conditions in which these bikes are fabled to excel in.
Finally this bike has come into its own in trying conditions that most normal bikes would struggle in leaving a set of white knuckles frozen around the grips.
The bike in the wet and slippery stuff, performs better then one would imagine offering a level of grip high enough to ride at a pace very similar to the summer months. In my case, still slow!
Compared to my two other dual suspension 29er's, the edge feels a little less snappy on the climbs for a hard-tail, likely due in-part to its longer wheelbase and slower, cumbersome wheels. However it's no less adept at getting up tricky sections of trail. If anything, I'd give the edge the stronger end of climbing performance when it comes to the really technical stuff and especially in the damper months.
So What?
Overall when we consider the price, the level of performance overall and all important looks we can excuse the fact that Lappierre chose tyres, add on's (dropper post) and gear choice over the fork quality and put this bike well and truly into a fun, exciting and modern package that will suit not only an improving mountain biker but even the seasoned pro in all of us.
Put it this way, we like it so much that we've decided to keep it and carry on our grinning ways while riding it. The entire time we have had this bike we have grinned while riding it on all of our test rides and has often been the go to in the stable over the others.
National stock is limited so get into Mybike Whangarei and mention this review. Ya never know what will come of it.....
As always, to the Boys at Mybike, MASSIVE thanks for the loan of this bike which is now a valued possession in the 3xplorenz stable.
Update: After upgrading the forks to a Rockshox Reba, 120mm boost fork, the bike performs even better in the fast and more rowdy sections. well and truly worth the extra!