When you throw down a paddle of fine craft beer, some delicious wood fired pizza and a relaxed atmosphere on the table in front of any hairy legged Mountain biker, you are going to have a recipe for success. How well you do it on the other hand is where you'll really make your mark.
Recently on a lads trip to Nelson, the remaining 8 from our Ghost Road trip were fortunate enough to kick around for an extra night or two and enjoy a little Nelson MTB'ing, some easy going cafe life and the well renowned Eddyline Brewery.
Located just out of Nelsons CBD and a stones throw away from the Sylvan MTB Park, the Brewery and Pizzeria is in an unusual but perfect location reflective of the brands American culture. Having traveled in USA a lot for work, and seen first hand the uprising of the American Craft beer culture, I've become well accustomed to pop-up and micro breweries in some bizarre semi-industrial/commercial locations.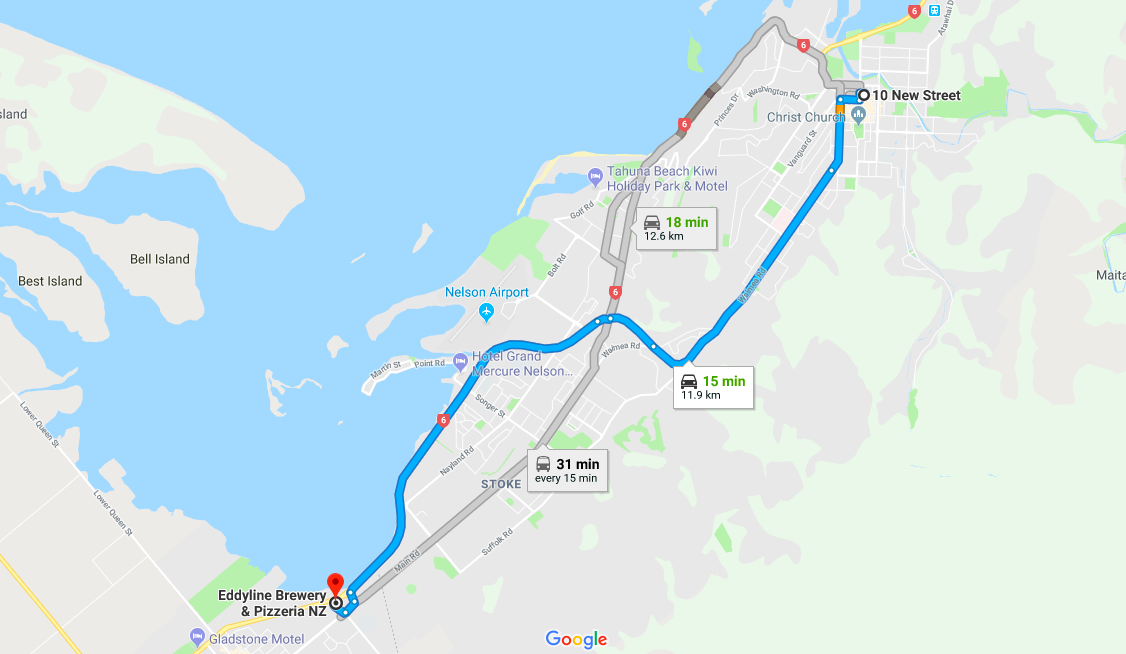 A quick and painless 15 minute drive
When you think about it, where else will you brew and store masses of liquid gold while allowing your patrons to then drink said gold with as little hassle and time from the keg to the pint glass? Exactly!! Prime CBD real-estate just isn't set up for this boutique style of hospitality.
This was exactly the case with Eddyline, especially when you know the background behind it. Mic Heynekamp and family have successfully managed to bring his already well established American brand out of Colorado, a modern culture, plus a fine taste of beer and pizza to little old New Zealand and boy has he done so!
Arriving at the brewpub you can easily be confused for a prefab concrete building reminiscent of a small shopping centre with a building either side of low importance. Step inside and you'll pleasantly be teleported to Colorado with a friendly greeting with an American accent, rich native timbers, a casual offering of a beer with some lite banter as you take your seats and a prompt greeting from your friendly and happy waitress, Sarah for the evening.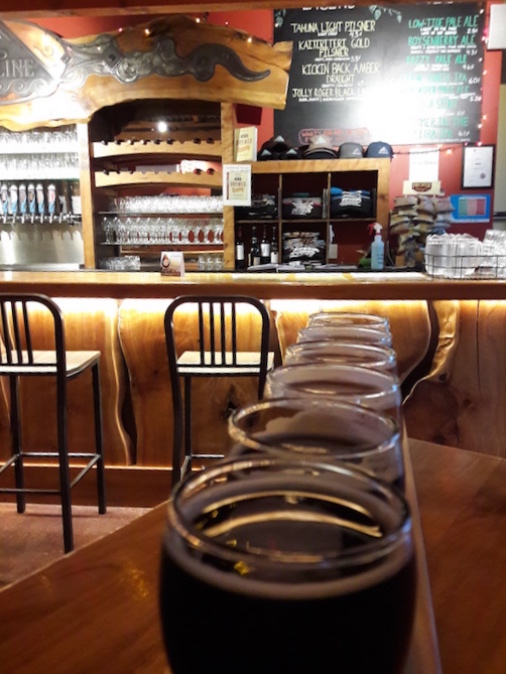 Eddyline Tasting paddle - you choose
With beer decisions made, starters and mains on their way, you're left to discuss the worlds problems, share your riding war stories and salivate over which beer to taste next and how good the pizza's look being delivered throughout the restaurant.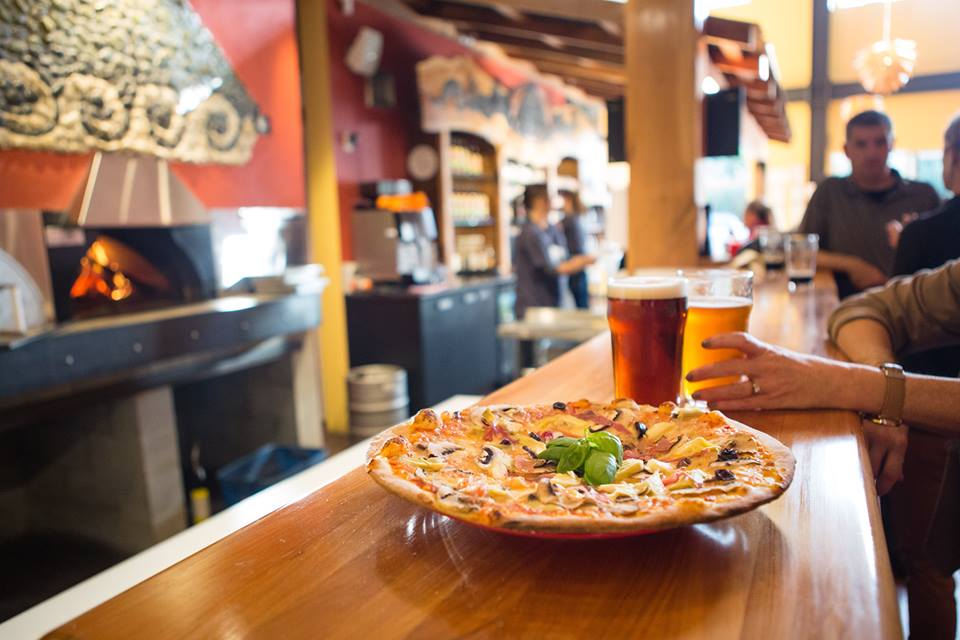 Delicious Pizza and Beer - Photo: Eddyline Facebook
As far as beers go, a healthy choice of Ales, pilsner, stout, dark lager and some seasonal others greet you with the menu. Enjoying the aptly named crank yanker IPA was the pick of the bunch until I got to the Kateriteri Golden Pilsner. This Pilsner had a light, fresh smoothness that rolled into a distinct, hoppy bitterness that left the pallet wanting that next mouthful. It was from this point I had settled on the next one, and the next one....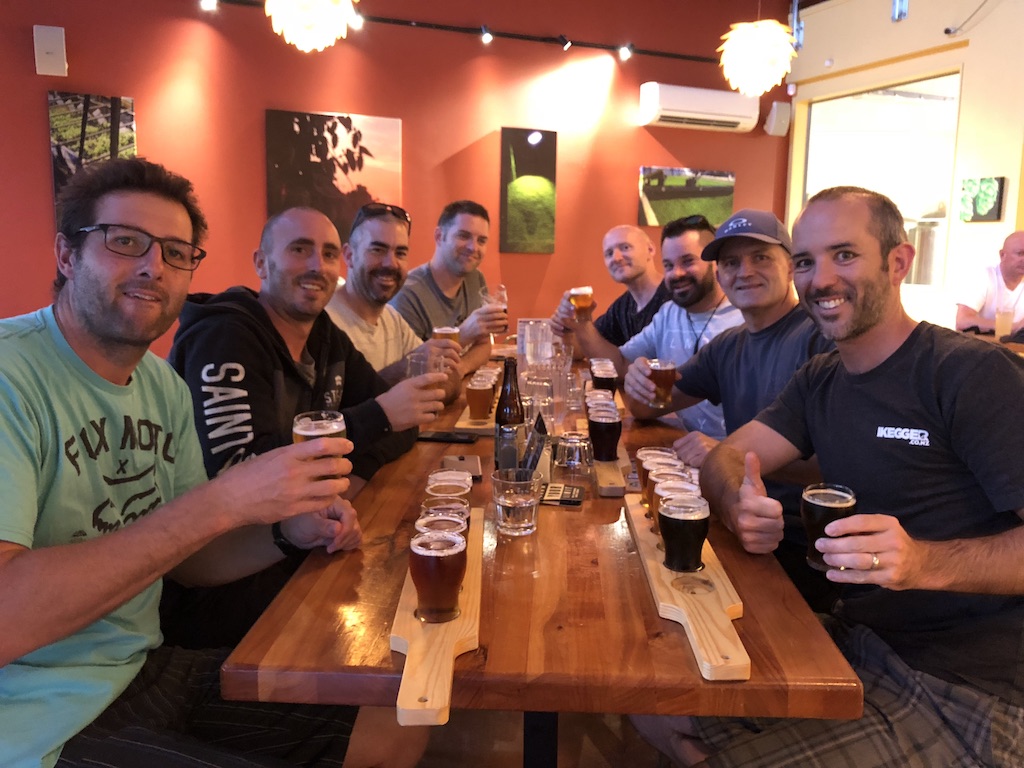 Not complaining one bit
Washing down the beer was a superbly cooked, simplistic pizza made just the way I prefer. A crispy, thin base covered in the perfect amount of toppings and sized perfectly to leave a good balance between beer and pizza flavors.
Overall this well established Brewery and Pizzeria is truly brilliant. The food, The beer and most of all the people behind this little slice of paradise make the experience a step out of NZ's norm and well into an authentic Northern American modern brewing culture that you need to experience.
From booking to paying the tab, the whole process was easy, perfectly suited to a bunch of mountain bikers with a distinct feeling of the fact that you will be back. The casual but fitting friendly attitudes from the staff are EXACTLY what you want when dining and drinking at a brewpub. Huge thanks to Sarah for going out of her way to remind us all of our beer tasting orders. She quickly made us feel like we're regulars here making the want to return even stronger.... Oh yes, without a doubt, we will be back!