Whaka 100 turned 50 - A Weekend Warriors Experience
Scroll Down
With a fortnight from my inaugural attempt at the Whaka 100, my hopes to bump myself up to the premier category faded rather heavily as I tucked into another Garage Project and listened to the pounding rain outside, dreading the thought of heading back into the weather to train after a busy day of work.
Rewind a few months and the training started out great. Regular weekday rides, core strength exercises and wind training HIE sessions and I was sorted. "it's only 100 K's right? Yeah, I got this"
Like any normal training plan to the average weekend warrior, it comes with many interruption's. Mid-winter holidays to tropical islands, family life and sadly the one thing us weekend warriors have to deal with, work. In my case, the work situation has a few more implications then most normal people due to most of my clients being scattered around the globe on floating palaces. Due to their geographical privileges, I am often joining them but with half the glamour and twice the stress.
Despite the interruptions, I was starting to feel fairly good on the bike. The k's weren't huge but the climbing was stronger the more I rode on my trusted old training steed however the closer I got to D-Day the more I realised I would not be entering the 100. Not from an "I can't finish it" mentality, more from an "I wont enjoy this one bit" perspective.
So with race day in hand, My best mate and a few others from Northland, the inclusion into the Whaka 50 and a tonne of GU, we were set to have a good laugh even if I was feeling like death warmed up from a pending man flu (it's a real thing).
Starting out we made our first major mistake in the normally simple routine of lining up. After hearing the call for the seeded riders to make their way to the start line we found ourselves hiding behind one of the shipping containers in a round of banter that normally accompanies our rides. unaware of the flood preceding said riders, we suddenly found ourselves starting literally dead last.
Starting in a bottle neck zig-zag, we bunny-hopped our way into tea creek to begin the Waha 50 in some of the worlds most desired single track and a few risky passing maneuvers got me a bit of space and managed to allow me to start to pedal a little faster at my pace.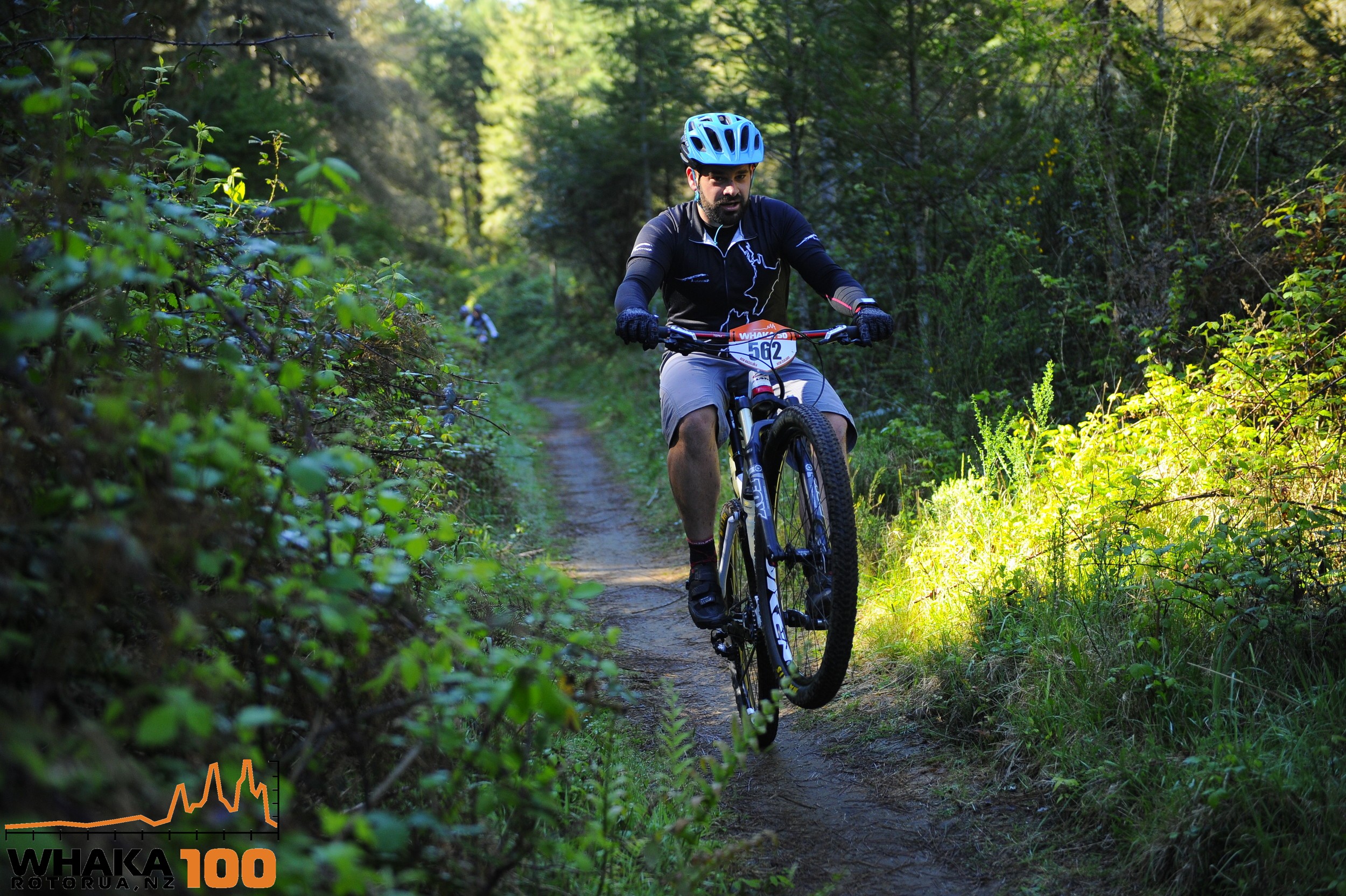 Still early on, the wheelies were possible
To begin the trails were an idyllic way to start a mass event and were graded perfectly to aid in my extra warm-up until the climbing started to take place. Tokorangi Pah rd was where the field finally started to spread out and once I hit "gunna gotta" I was feeling good with the back of my mind gently reminding me to just hold back a little for Hill Roads pending hurt swiftly followed by frontal lobotomy, a well versed soul destroying climb if taken lightly.
With the major hills behind me and now over the half-way point, I had managed to claw back 100 plus places from my start position and was teetering on the start of Billy-T, a 2km single track descent that is home to many a hero and many a zero. Luckily my poor XC bike didn't really realise what I was about to throw at it until I was at the trail exit. I gather it cottoned on about the abuse after I passed the 18th rider by mid-way down this trail in full Grin mode.
No Pain No Gain?
Settling into a good second half pace I found myself in a bunch of similar paced riders making a steaming exit towards the finish until it all came crashing down around the 42km mark. A tiny little ping from my rear cassette took my mind instantly back to my soul destroying fixie session at the 2015 Huka challenge. This couldn't be happening again, could it? yeeeaaaaarrrrrrppp!!!!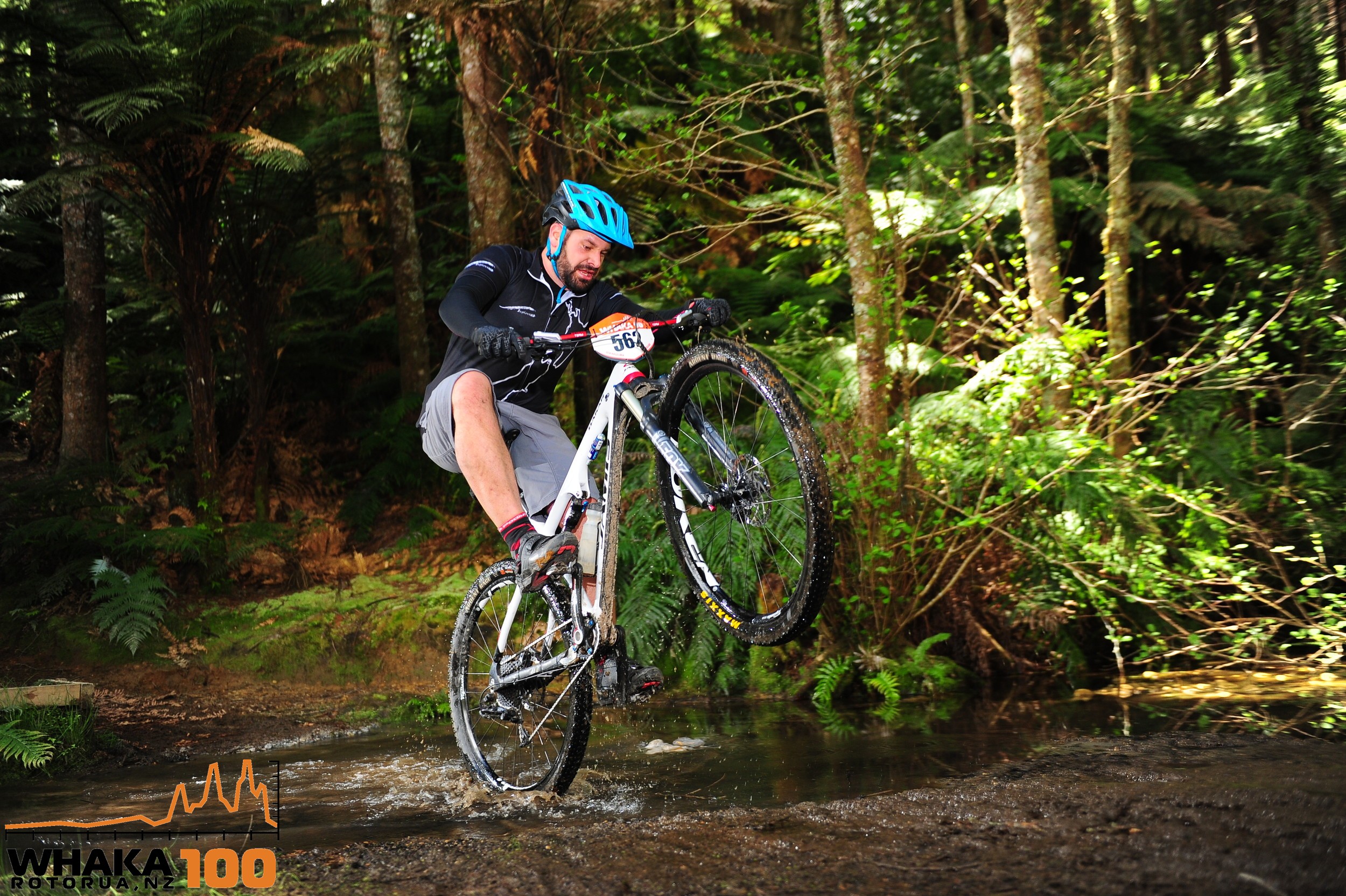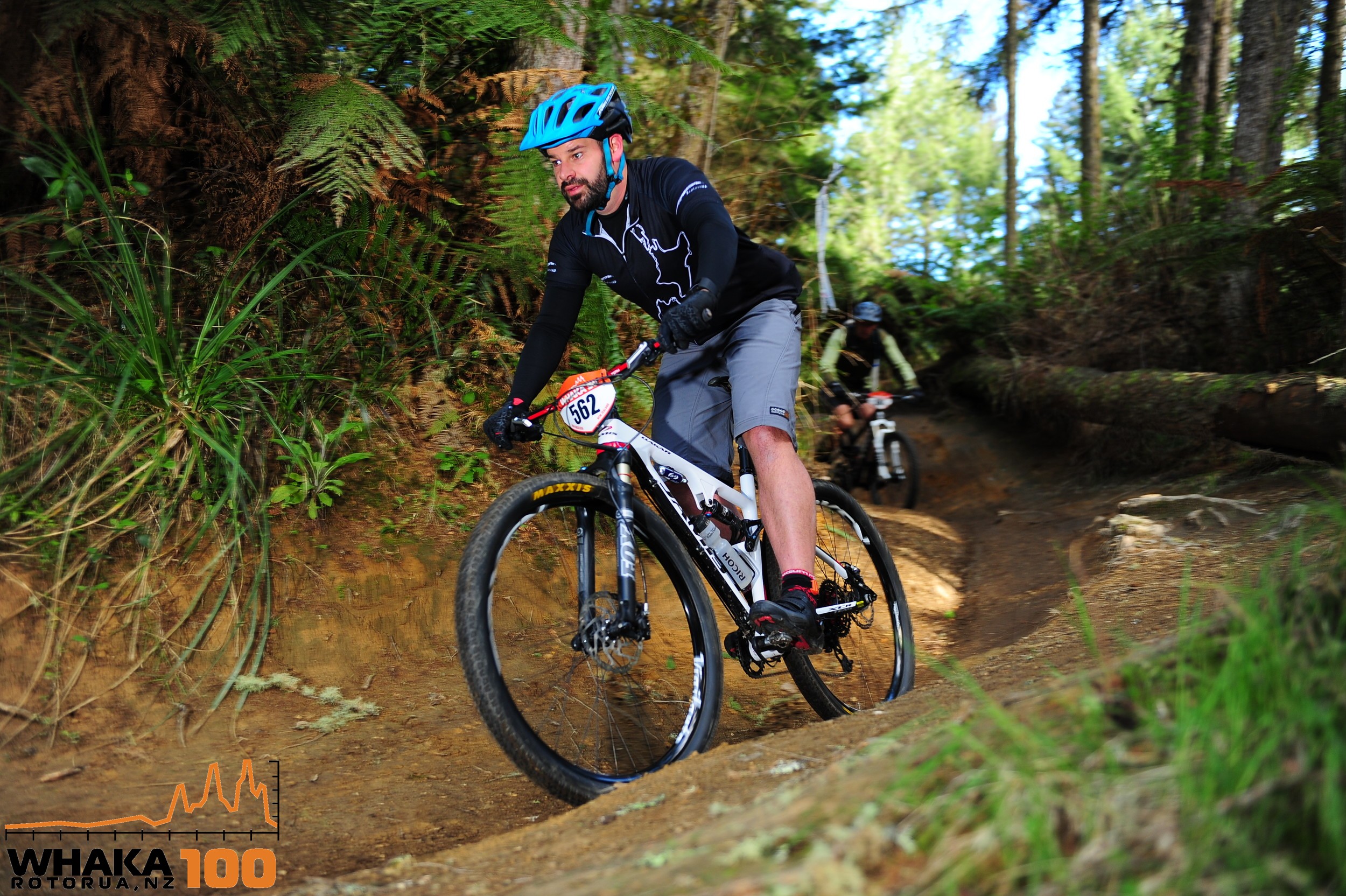 After around 50 meters of trying to ride my bike fixie and and the accompanying 100 chain drops, I decided best to split my chain and run/glide the remainder of the course and let me tell you. This wore very thin, VERY QUICKLY!
Being passed by riders on the ups, I'd manage to carry speed well and pass them back on the descents but this wasn't doing me any favors in the pain department and my tendencies to push on were at an all time low.
In a last ditched effort I decided to go all Bear Grills and take to my frozen free-hub with a stick, a multi tool and a good ole fashioned kick and voila, albeit somewhat crunchy and a little distressing in sound I had a working free-hub.
With my chain back on, and a now determined mind I decided to try claw back some of the 20 minutes plus I had now lost. I could see Luke catching me on a distant ridge and decided I would never live this down if he caught me so put what hammer I had left, down.
Rounding up the last two Km's I was passed by the leading 100km rider, Jack Crompton who made me feel like I was standing still. My 4:28.00 was a meere walk in the park compared to his efforts and this was the icing off the cake for a girl I passed who had let her emotions and physical pain overwhelm her. Offering her some moral support and helping her up the last few climbs was to me what this event captures most of all at our level. The welcoming sounds of the event music and announcer was the motivator I needed for my final push and moment to avoid embarrassment over the infamous creek crossing.
WHAKA YEAH!!!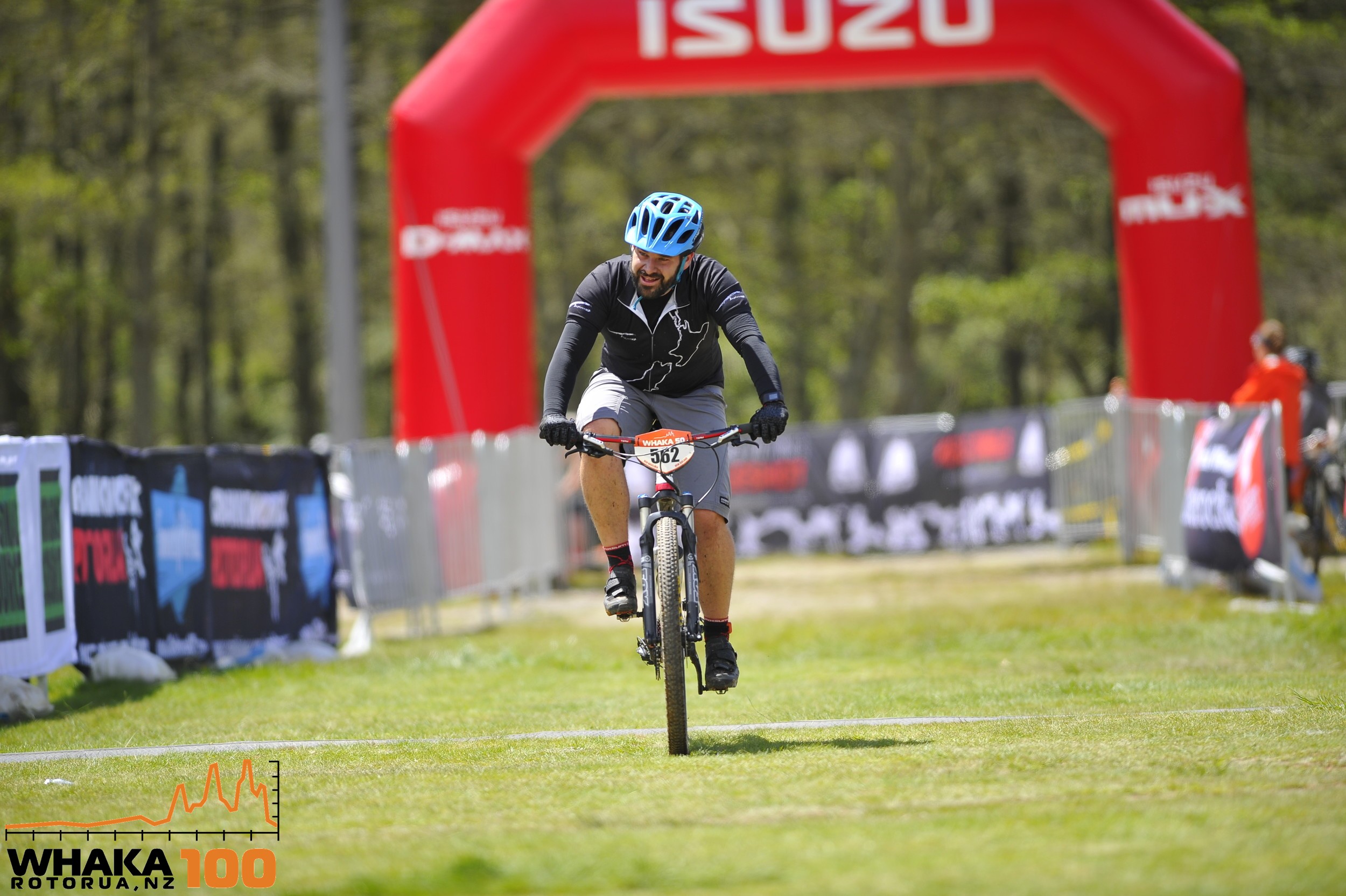 The complete blind friendships you make on the trail for the short 4 hours with people you only know as "brand new anthem guy" or "Rocky Mountain Girl" are small items you all share in aiding you to grovel your way through this iconic event that every rider should try once in their lives.
The feeling of completion with your friends and family waiting at the finish is almost emotional (don't tell my wife) and the high fives all round certainly make for a good taste of beer afterwards.
As usual, the guys at N-Duro events do a magic job on bringing an event to the world. Tim Farmer has proven his magic at organising event after event and building from strength to strength with the addiction spreading to the wider riding communities nationwide.
If you're after an event packed full of single track, good people and a weekend away then start planning yourself in readiness for next October's Whaka and we'll see you there.
Massive thanks to Photos 4 sale for the awesome event photos.