Trail Review - Sandy Bay - Whananaki walk/cycle way
Scroll Down
Subtly winding and caressing some Northern New Zealand's most iconic East Coast shoreline, the Sandy bay walkway that forms part of the Te Araroa trail traverses 6 kilometres of easy going farm and gravel tracks to the picturesque sea side village of Whananaki.
Accessible by foot or Bike, the track starts at Sandy Bay just North of Matapouri in Northland New Zealand. Ample car parking (season dependent) is available at the beachfront or adjacent creak-side car parks or on McCauslin Rd at the trail head.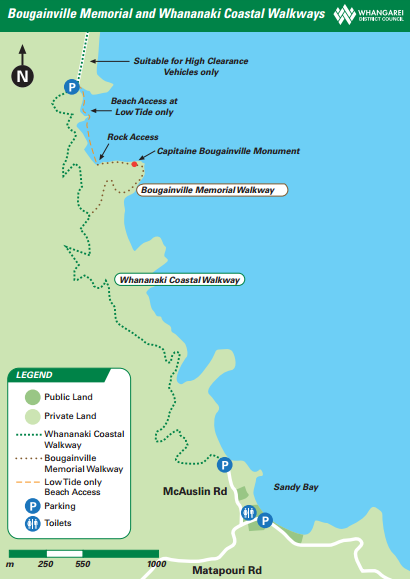 Picture: Whangarei District Council
From here and for a short 3.5km's, the trail meanders its way through an undulating gravel track/road dropping in and out of some idyllic, peaceful kiwi bach locations in what can only be described as true paradise.
From this point the track turns to grass single track and can either be continued along to Pukekawa Rd or at the pine plantation be diverted down to a winding 1km drop to the Bougainville memorial.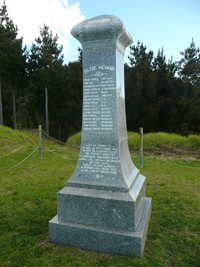 On Wednesday 3rd September, 1975. The general cargo carrier Capitaine Bougainville while in heavy seas suffered an uncontrollable engine room fire and was subsequently abandoned. Sadly, due to the conditions, 15 lives were lost that day in a capsized life raft. The monument stands proud on the hilltop above the bay where this tragedy occurred.
From the memorial (tide dependent), you can either traverse the pines further down onto the beach and meet the trail or climb back to the monuments trail-head and head down the remaining track to Pukekawa Rd following the trail markers out to the world famous Whananaki foot bridge.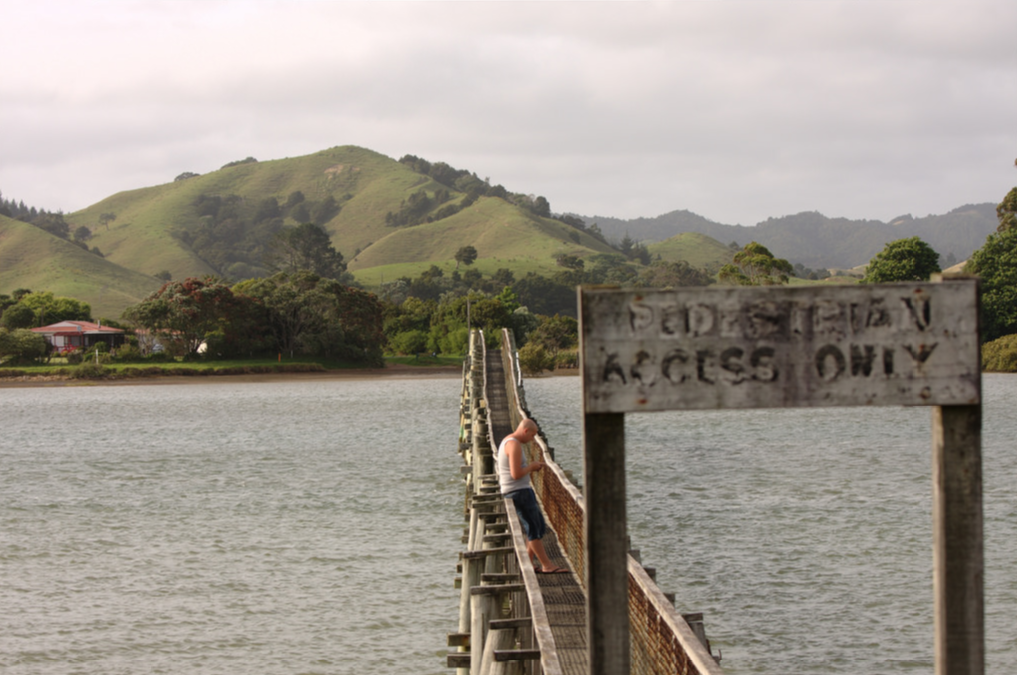 Picture: FlickR lostandcold
Once in Whananaki, a quick gorge on fish n' chips at the local store never goes a miss while you plan your return either by return road or back the same way.
With good company, this trail is an enjoyable day out with a few stunning views, a relaxed gradient and a little kiwi history. This trail is best suited to summer months so be sure to bring your swimming gear and enjoy a nice dip or surf to round off a brilliant day.