Trail Review - Booty Calls and a Sneaky 1-Night Stand
Scroll Down
Usually, most of Auckland tends to get all over-hyped and beat on their drums about what they have over the rest of the country.
However, in this case, the Woodhill mountain bike park, located 40 minutes North West of Auckland is quite different to their traditional geographical compatriots and despite the millions of dollars of shmicky, carbon race bikes found on any given day of the weekend, the park is actually a breath of fresh air with a rather low key web page and relatively small social media presence.
Having not ridden in Woodhill since the days of single speed sunday's a few years back, my curiosity was starting to grow with recent social media feeds from users supplying a plethora of opinions and hype about the new trails in the almost completely re-vamped park. Obviously this meant that we NEEDED to see these for ourselves, So a quick muster with the lads (and lass) and a planned date and we would be off.
In the last few years, Woodhill as people knew it has changed ten fold from its former glory. The only main remaining piece's of original trail were the aptly named *treasure-island* and *better then road* with most of the wooden structure riding it was best known for now simply ornaments among the vast areas of forest clear-fell.
With a rumored demolition and tree felling in the block holding these two last trails, we decided for old times sake to give them one last Hoorah. Treasure Island for those who aren't in the know is a small 2.5km criss-cross style XC trail with plenty of extra's for everyone that even the pro's still smile at after the descents.
After leaving the entrance trails and getting into the main park, we arrived via Tasting platter which bought us directly to the beginning of Booty Call.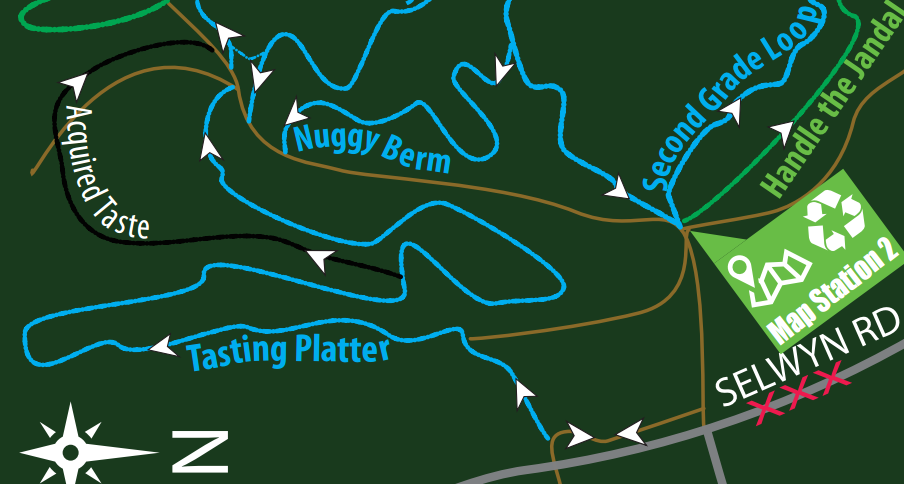 Tasting Platter is another grade 3, intermediate trail which splits around half way and gives you the option of a rugged, fresh grade 4 (Acquired Taste) or the continuum of the Tasting Platter flow to the same destination.
Booty Call
Arriving at the start of Booty Call and still buzzing from the rough and technical Acquired taste, we set off into what initially looked to be very boring which then rapidly turned out to be an eye opening, fast, flowing, exhilarating 1.2km long descent that left every rider from our group grinning from the ability to descend at a very fast (40km/h plus) pedal-less state. I guess you can't always judge a book by it's cover?
The trail certainly didn't boast any high levels of technicality but the speed and flow would certainly keep the bulk of riders on their toes with a few off cambered areas offering a few challenges to all riding abilities. It was obvious a few experienced trail builders/riders had shaped and manicured this trail into what it is with gradient choices, berm shapes and lines and watching the Trail Vibes video's it was clearly the case.
From this point we returned back via *Reverse psychology*, a progressive uphill trail that gained in gradient the further you climbed through a series of well thought out switchbacks and small bridges over gully's and utilising the natural humps and hollows where it could.
This climb delivered us back out past the start of Booty Call and at the trail head junction with Handle the Jandle and Second Grade Loop.
From here we descended upon 1 Night Stand and the name says it all. One of those situations you thoroughly enjoy while at the same time the questions of how you got to that point weigh on your mind. Luckily, this time it wasn't tequila and some tacky music, it was just an uphill trail (Reverse psycology).....
We were now over the far end of the park and time and energy levels were running low so a "quick" dash up Judgement Call and down Release Valve let us enjoy the full length of Reverse Psychology one more time.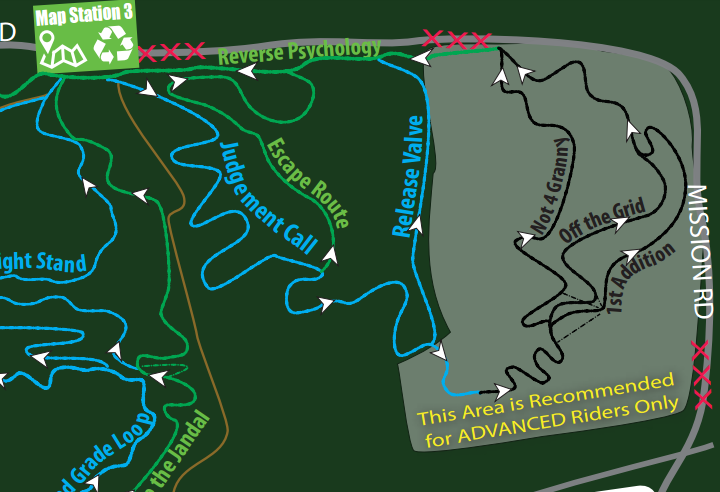 On our exit back to the Car Park we diverted back through Treasure Island for a convenient and fun "shortcut" to Togs Togs Undies, a trail very reminiscent of SH Fun In Taupo's craters of the Moon MTB park and a fantastic way to wind up a days riding.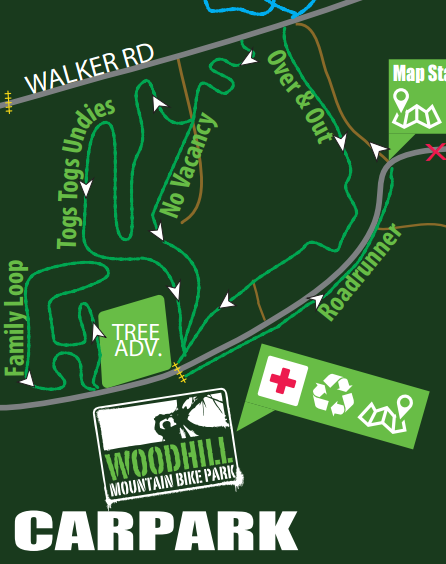 For an enjoyable days riding to suit all abilities be sure to get out there and see for yourself. The new Park has catered for multiple riding levels and styles and offers a great winter alternative to slippery clay and tacky mud. The team at Woodhill have given the park an even higher professional touch and the future plans look set to extend that even further.
Important Things to Know
The Park is primarily a sand base so is best suited to winter riding.
It is recommended that good quality tyres are used. A hard pack, fast rolling tyre would be the better suited over mud tyres.
A park day-pass is $10 per adult and is open from 07:00 to 17:30 with strict gate closure times so be sure to plan your exit time with sufficient time. (Around half an hour should see you able to exit the park from the furthermost point)
Use a dry lubricant or wax on your chain before you go for the sandy conditions.
On weekends, the car park fills up very fast so be sure not to stop for too many latte's on your way or else you'll have a lengthy wait on your hands for a park.