Being based in Northland, the single track options are generally a lot more narrower, rugged and bare boned then what our more southern compatriots are spoilt by so, it's fair to say the inclusion of the Southstar trails built, Focus Paihia Trust funded and driven Mountain Bike Park was not only an eagerly awaited but welcomed addition to an already busting at the seam adventure location.

Located on the northern fringes of Waitangi New Zealand and an easy 10 minute drive from Central Paihia in the breath taking Bay of Islands, the park is easily located on Bayly Rd with a well appointed car park and trail head with plenty of information of the park and trail network.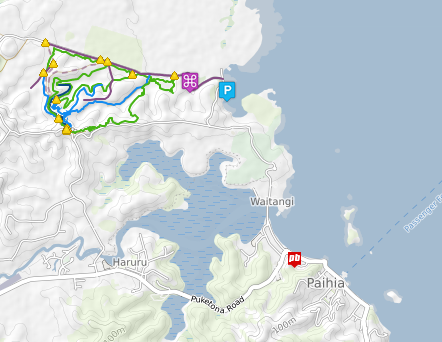 The park encompasses the rich Maori Heritage of its surroundings with many names and terms us Northland Fulla's are quite used to. Hearing the out of towners trying to pronounce the names can be a bit of a chuckle but all part of it.
Currently, the trail network consists of around 25km's of wide, flow styled beginner grade 2 and 3 trails and is currently expanding at a rapid rate of knots with Southstar Trails constructing another zone ready for opening in early 2017 and an estimated 70 km's of mind boggling single track.
The stage 1 trails were designed to inspire the less experienced Mountain bike community and welcome a family orientation to the park as the primary focus. The current trail offerings utilize the parks maximum elevation of 125m better then one would think. Don't be fooled by the lower elevation here, it will still make you work for your pudding and offer rewarding downhills, soaking up every contour, ridge and hump in a smorgasbord that even the lower grade trails will leave the pro's grinning on.
For the more adventure inspired, there is currently one grade 5 open, Te-Corner and a very fast and flowing grade 4 Te Ara Kaanihi, packed full of jumps, hips tables and berms. With this, the good news continues with even more grade 4 and higher trails currently under construction and planned for 2017.
From a riding stand point, the park is well laid out and sign posted with two options to climb to the highest point of the park. Taane's climb or Hua Hill these start from different locations in the forest so offer an easier and quicker return alternative depending on your descent choice.
From the top, there are multiple selections depending on your preference of trail. One of my favorite trails after riding in the park a few times is Tuatara which starts North of the highest point and rapidly meanders its way down near to the start of Taane's Climb. This is a very fast, flowing grade 3 burst of speed and term meander is not to be taken lightly.
For the more lycra clad, XC bean poles, the park already offers a good level of riding but has developments to include much longer XC loops towards the back of the park soaking up the volcanic heritage and native bush sections in zone 4.
The verdict
Overall this facility has been delivered exactly to what it has been described and dream't about. It has something for everyone and offers the wider MTB community another avenue to discover in our amazing country and slice of paradise.
Trail and build quality is second to none and has clearly been designed and plotted by a passionate, professional and world class team. As the park matures and trails bed in over the 2017 winter, things can only get better and grins get bigger.

It's encouraged to get behind the registry system to ride although not compulsory. The registering process is not only easy, it's cheap and offers many added bonuses if staying in Paihia or planning on having a beer and grabbing a bite afterward.
The trail head carpark has room for around 50 cars so bear this in mind if traveling here over a weekend and potential busy period. The car park is isolated with no supervision or pro shop (on the list of future developments) so be sure not to leave valuables visible in your car like most remote car parks in New Zealand.
To the team at Focus Paihia and especially Tiff and Robin Holland, great work on delivering the first stage of an evolving gold mine. Hats off to everyone who has got behind this project and bought it to light.
We give this park a very credible and solid 5 out of 5 chain rings. Fun, fast and fresh!